Decennial
Ten years of the Puglia Sounds project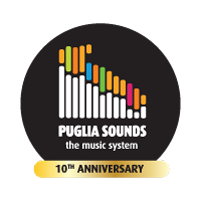 FEATURED
Video interviews on the last 10 years with some Apulian musicians
Ten Years of Puglia Sounds
Yes, just today that we have eleven. 2021 takes on the year that preceded it, if it takes it with it, it breaks a tradition. We celebrate with you the desire to affirm music every day as a fundamental production sector capable of generating value and employment, the desire to support Apulian operators and artists, the unstoppable need to qualify growth, the visibility of every single project through alerts public, partnerships, communication and promotion activities.
In this tiring journey full of jolts, we never lacked the desire to improve and evolve. This is why we celebrate and we will continue to do so also in the coming weeks, accompanied by the voices, the faces, the music of the traveling companions who from 2010 to today have made Puglia play louder and louder!
Newsletter
Sign up to stay updated on the activities of the Puglia Sounds project. The newsletter, on a non-periodic basis, informs you of the news that may concern your professional activity and the appointments not to be missed.